At Mister Sparky by Wise Electric Control Inc., we love helping our customers in the Charlotte, North Carolina area learn about the various electrical products and the multitude of options that are available to add to their homes or businesses. There are exceptional benefits and peace of mind involved with the selection and upgrades of all electrical products, making them ideal investments for safety, quality of life, and the value of your home, investment property or place of business. Here are some of the most popular electrical products we sell and install, as well as the key benefits you can take advantage of after installation.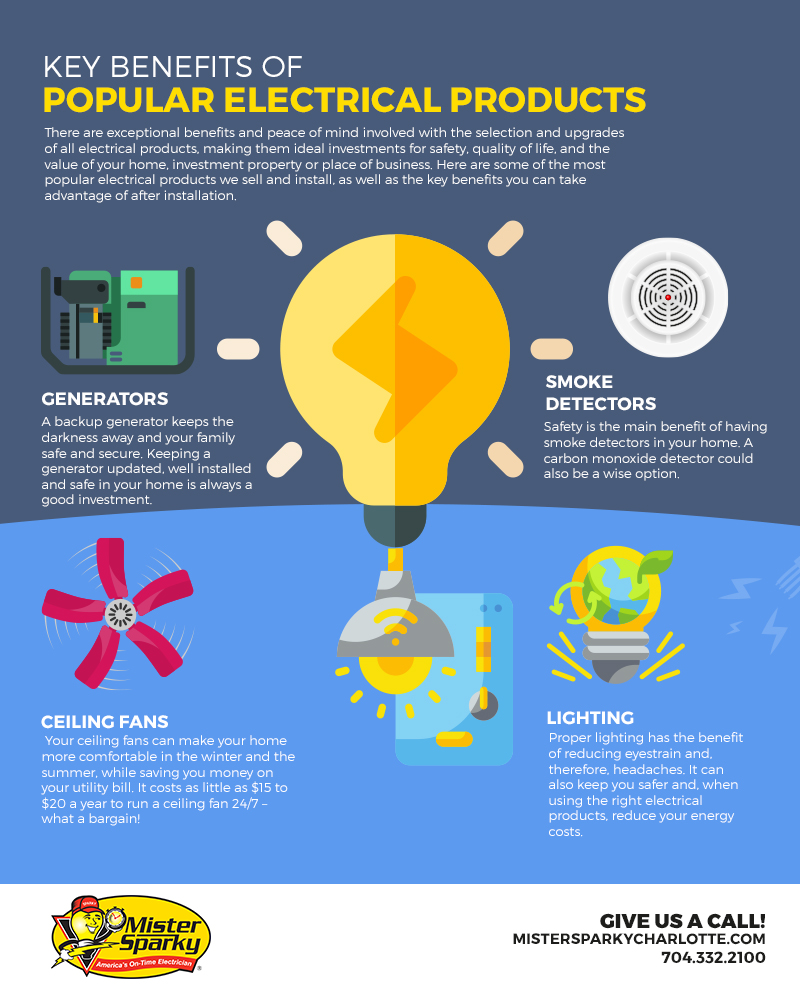 Generators– We have all gone a few minutes without power and probably noticed it felt very unnerving. Imagine being without power for days after severe weather or a problem with the electric grid! You'd lose everything in your refrigerator and freezer, be unable to do anything after the sun went down, not be able to enjoy hot water, and miss a host of other things you take for granted. A backup generator keeps the darkness away and your family safe and secure. Keeping a generator updated, well installed and safe in your home is always a good investment.
Ceiling Fans– Did you know that with the switch on most ceiling fans, you can change the direction of the airflow? Your ceiling fans can make your home more comfortable in the winter and the summer, while saving you money on your utility bill. It costs as little as $15 to $20 a year to run a ceiling fan 24/7 – what a bargain!
Smoke Detectors– Safety is the main benefit of having smoke detectors in your home, giving you the precious time needed to get your family out of the house should a fire occur. A carbon monoxide detector could also be a wise option.
Lighting– Proper lighting has the benefit of reducing eyestrain and, therefore, headaches. It can also keep you safer and, when using the right electrical products, reduce your energy costs.