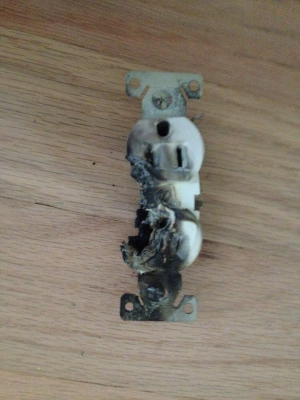 Keeping the electrical components in your home functioning well is important for many different reasons. Having faulty electrical equipment can be a danger to your home and family, and knowing when to seek professional help is vital. There are many different indicators that you may be experiencing electrical difficulties, and outlets are no different. Some signs you may be in need of outlet repair are:
• Outdated outlets with only 2 prongs and no ground
• The outlet will no longer hold a plug in place, and it falls out
• Your outlet is warm or hot to the touch
• Outlets are discolored or misshapen due to the heat emitted
• There are sparks, a burning smell, or smoke when using the outlet
If you have noticed any of these issues, it is time to seek out professional outlet repair. In some cases, outlets need to be replaced, but many outlets can be repaired and can simply be the fault of a loose wire. At Mister Sparky by Wise Electric Control Inc., we offer outlet repair in the Charlotte, North Carolina area. We have served this area for over 30 years and bring our experience and expertise to every home we serve.
When you choose us for outlet repair, we will quickly assess, identify, and fix your problem, whether you need repair or replacement. All of our professionally trained electricians are equipped to handle any outlet issue in your home with our state-of-the-art equipment and extensive safety training. We do caution against anyone attempting a DIY solution with electrical components, as doing so can be dangerous for an amateur.
Give us a call to schedule with our team for your outlet repair. We value your time, so we have an on-time guarantee that we're on time or your service is free. Additionally, we guarantee your satisfaction with any job we perform and strive to exceed your expectations. We look forward to assisting you with all of your electrical needs!