When you are thinking about your home, there are likely many repairs that you can handle on your own. Many people take pride in caring for and maintaining their own home, but you should be wary of tackling certain repairs by yourself– including electrical repairs. Here at Mister Sparky by Wise Electric Control Inc., we want impress upon you the importance of letting professionals handle your electrical repairs. Calling a professional can be helpful in many different ways, including:
Giving you the best in safety options- Electrical repairs can be dangerous. Always let professionals like ours handle your electrical repair needs.
Plenty of great lighting- Electricians can help make the most of your lighting and install more in other helpful areas.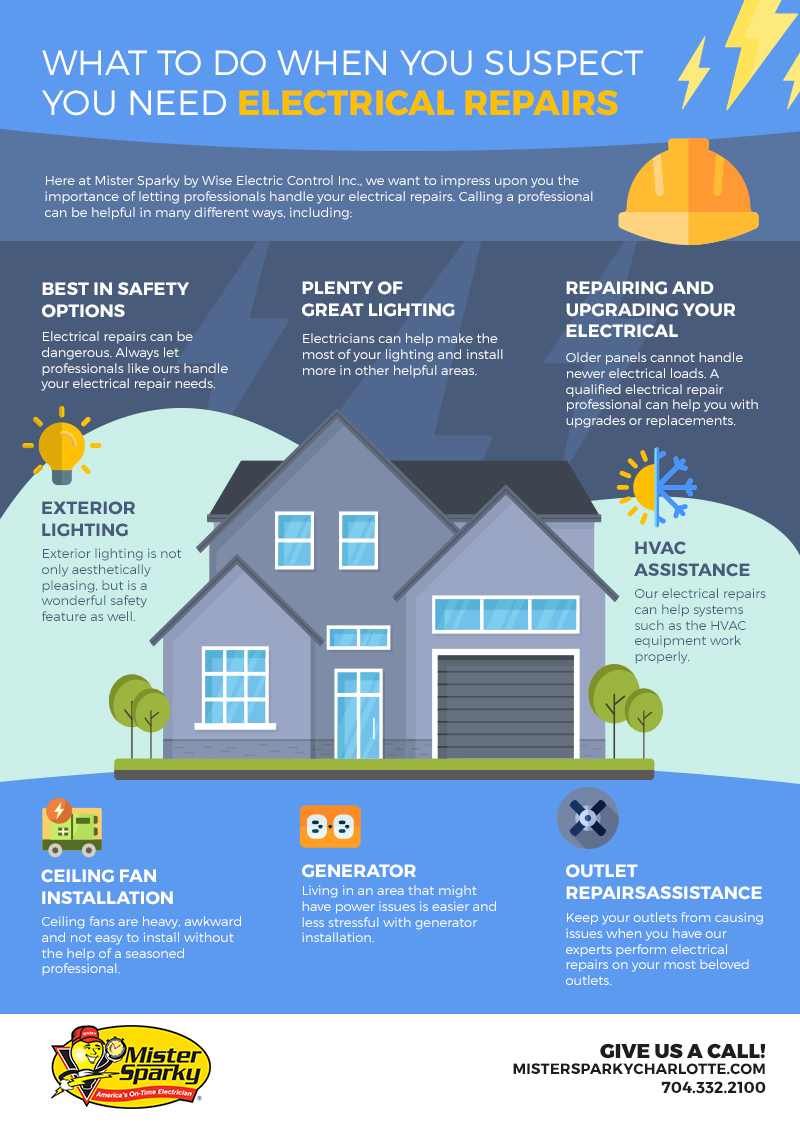 Repairing and upgrading your electrical panels- Older panels cannot handle newer electrical loads. A qualified electrical repair professional can help you with upgrades or replacements.
Keeping your cool with ceiling fan installation- Ceiling fans are heavy, awkward and not easy to install without the help of a seasoned professional.
Powering you through with generator assistance- Living in an area that might have power issues is easier and less stressful with generator installation.
Outlet repairs that help you stay plugged in- Keep your outlets from causing issues when you have our experts perform electrical repairs on your most beloved outlets.
Enjoy the safety of exterior lighting- Exterior lighting is not only aesthetically pleasing, but is a wonderful safety feature as well.
Stay comfortable with HVAC assistance- Our electrical repairs can help systems such as the HVAC equipment work properly.
If you have questions or need an electrical repair, we invite you to contact experts at your earliest convenience. For more information, be safe and give us a call!