Let our professional electrician save you from a hair-raising experience at your Mooresville home.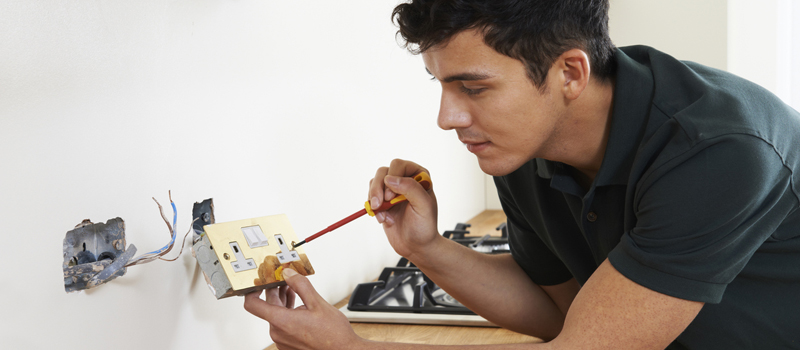 Dealing with an electrical issue when you are not a trained professional electrician can be a hair-raising experience – literally! Rather than take a chance that could lead to bodily injury or a fire, call our experts at Mister Sparky by Wise Electric Control Inc. We'll send a professional electrician to your home who will safely handle your installation or repair issues.
There are three main services that you should call a professional electrician for that can be extremely important. The first is to have smoke detectors installed if you don't have them yet. There are a number of different ways to safeguard your home and family. We offer a variety of types of smoke alarms so you can get the protection you want. Go with a regular fire and smoke alarm or upgrade to carbon monoxide and natural gas alarm features as well.
The second important service is to have the wiring in your home inspected to make sure you are not inadvertently overloading any of the circuits. Older homes were not built to manage the higher dependence on electronics that today's family has, so it is possible you could need more circuits or even a larger circuit panel.
A third recommendation is whole-house surge protection. Today's appliances and electronics are far more susceptible to even small surges, and these surges are more common today with the larger power needs in communities, so this is necessary to protect your investments and avoid costly repairs.
If you would like a professional electrician to come handle these or any other electrical services at your Mooresville, North Carolina home, don't hesitate to call or use our online appointment request form. We guarantee to be on time for your appointment, or the repair is free.
---
At Mister Sparky by Wise Electric Control Inc., our professional electricians serve Charlotte, North Carolina and all surrounding areas, including (but not limited to) Cherryville, Concord, Cornelius, Davidson, Denver, Gastonia, Huntersville, Indian Trail, Matthews, Mooresville, Troutman, Hickory, Lenoir, Newton, Sherrills Ford, Morganton, Terrell, and Statesville.